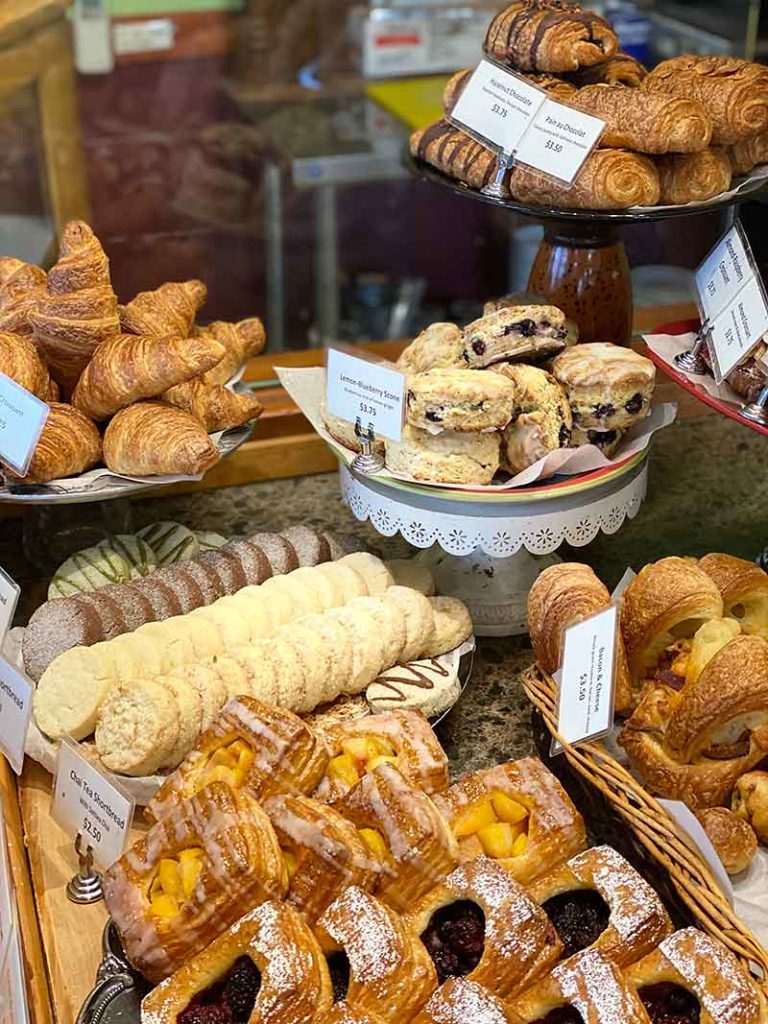 Carlton, Oregon, is about an hour southwest of Portland. Located in the rolling Dundee hills, this is perfect Oregon wine country, and nestled among the dozens of wineries in this area you will find Carlton Bakery.
Carlton Bakery is a gem in this tiny wine-fueled town. Their new building, located on the corner of Main Street and N Kutch, is easy to find and easy to love. The smell of fresh bread and pastries greets you as you walk into this modern bakery with café seating. The stone fireplace gives the whole room a cozy atmosphere. In warmer weather, enjoy their covered terrace for a breakfast pastry and a café or lunch before a local wine tasting adventure. With a delicious breakfast & lunch menu, as well as plenty of breads and pastries to choose from, you will not want for choices.
Tim and Ahmee Corrigan own this charming bakery and make everything from scratch using traditional French methods. Sweets like macarons, lemon lavender shortbread, croissants and pains au chocolat sit side-by-side with savories such as rosemary ciabatta, cheesy épi, and pain de mie with pumpkin & flax seeds. Gift boxes and more information are available at their beautiful website.
Tim was inspired by French bread and pastry while living in Japan. He worked at a bakery there for two years learning traditional French bread techniques. No surprise that a French bakery is so popular. The French are in most every community, from small-town Oregon to big-city Japan!
Tim generously provided the delicious lemon tart recipe for the Paris is Always a Good Idea Girlfriend Luncheon chapter in my new cookbook Ooh la la! French Inspirations for Entertaining and Travel. You can order these tarts from Cartlon Bakery, or you can make them yourself with the recipe in the cookbook, available at their bakery or at my website for at a special COVID-19 price of $40 (online only, includes shipping). Try making these tarts for your next party, or to eat this coming weekend!