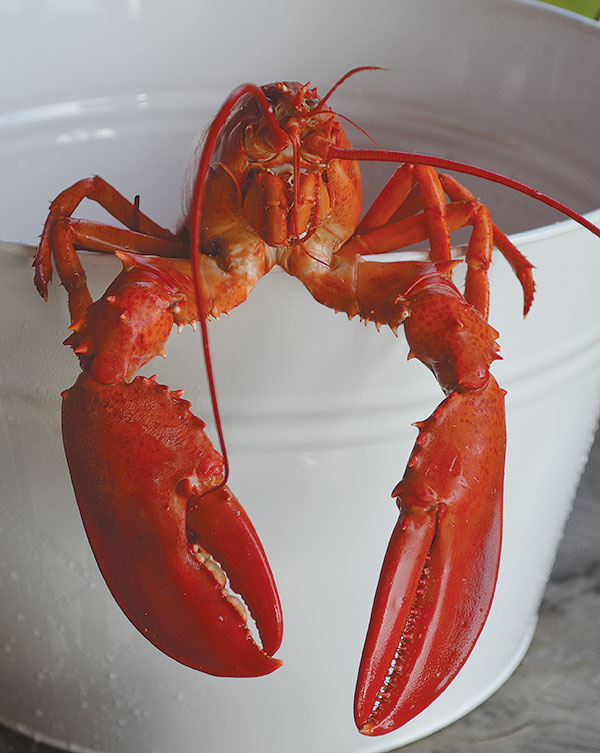 An Internet search for "Lobster Day" will yield two results: National Lobster Day (USA) on June 15 and International Lobster Day on September 25. For me, this is great news: two days to celebrate and eat lobster!
Lobster, for most people, is an extravagance. Eaten usually on special occasions or at fancy restaurants, many home cooks are intimidated by the cost or the preparation of these strange and delicious creatures. Fear not! The upcoming lobster celebration days are the perfect opportunity to try something new. Lobster does not have to be hard to cook or hard to eat.
My fishmonger, Jeff, at the local grocery store on the Oregon Coast shared a recipe with me on how to cook lobster tails in a tin can on your barbecue. The recipe below worked great. Ooh la la! Now I can have lobster while "glamping" or at my pied à terre in Alaska after fishing. You can use your left over lobster salad mixture to make a lobster croissant sandwich.
Print
Faire cuire du homard dans une boîte de conserve au barbecue
Cooking Lobster in a Tin Can on the Barbecue
Equipment
Large tin can (baked bean or chili 40-ounce can)
Ingredients
1/4

cup

French salted butter

1 1/2

cups

boiling water

2

8-ounce

lobster tails
Instructions
Wash and dry lobsters tails.  Using very sharp poultry scissors (Joyce Chen) cut along each side of the thick membrane on the bottom side of the lobster shell, leaving it attached at the end of the tail. Make sure the membrane stays close to the meat. Place lobster tails on a paper towel on a baking sheet until ready to use.

Start the barbecue on high. Place the butter and water in the can on the barbecue grill. When the water boils, add the lobster, tails-up into the can. Set timer for 10 minutes. Remove can from barbecue. Cut the membrane at the bottom of the tail and carefully remove it and the outer lobster shell. Wear gloves as the lobster is very hot.

Cut lobster tail meat into chunks and place in a bowl. Cover and place in refrigerator until ready to use.
Whether you are cooking for a crowd or making an intimate dinner for two, Lobster Salad, Lobster Rolls, Steamed Lobster with Clarified Butter, and Homard à l'Américaine (Lobster with Wine, Tomatoes, Garlic & Herbs) are great recipes to showcase this special ingredient. These recipes are found in my new book Ooh la la! French Inspirations for Entertainment and Travel.
Try one on June 15 and another on September 25! Ooh la la!