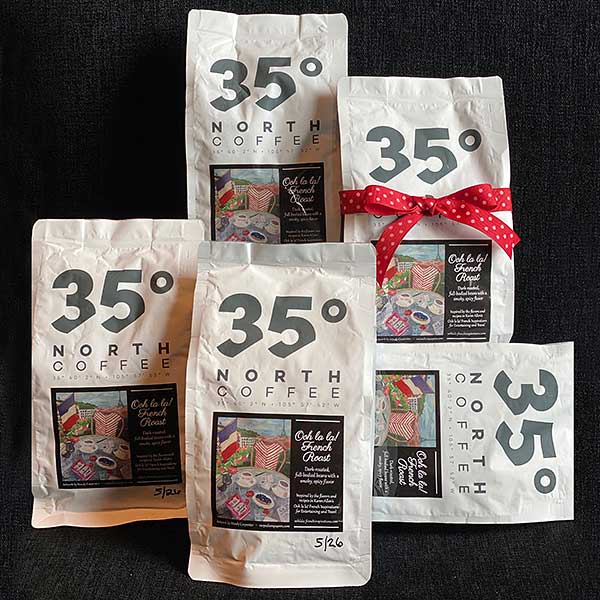 I was recently sent a variety pack of coffee from 35° North Coffee, located in Santa Fe, New Mexico. Ooh la la! Is it good! Head coffee roaster Tom Patton has a passion for good coffee and for working with restaurants and cafés to create a signature flavor for them. Since tasting several of their varieties I have been in touch with Tom about creating a special Ooh la la! French blend for me. This unique coffee will be perfect for you to enjoy with any of the baked treats from my new cookbook, Ooh la la! French Inspirations for Entertainment and Travel. From Kugelhopf to Pistachio Loaf to Coconut Macadamia Muffins to Brioche, this exclusive coffee is made to pair perfectly with your French-inspired home baked treats!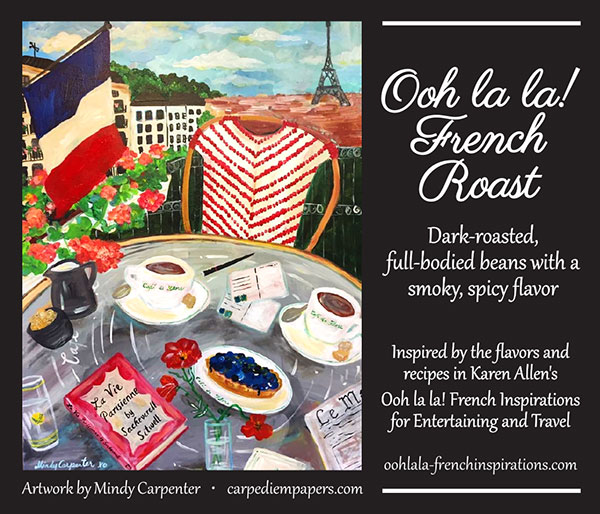 Artist Mindy Carpenter designed the beautiful label for the Ooh la la! French Roast coffee. Merci, Mindy! Her cards and other artwork can be found at her website.
With each purchase of Ooh la la! French Roast from 35° North from now until August 1, 2020, you will be entered in a drawing to win a free copy of my book! Visit their website for more information about the coffee they roast and how to order the Ooh la la! French Roast. They also have a subscription service, which ensures you never run out. Coffee makes a great gift! You can also order Ooh la la! French Roast from our website by clicking on the contact us link and requesting a shipment of coffee.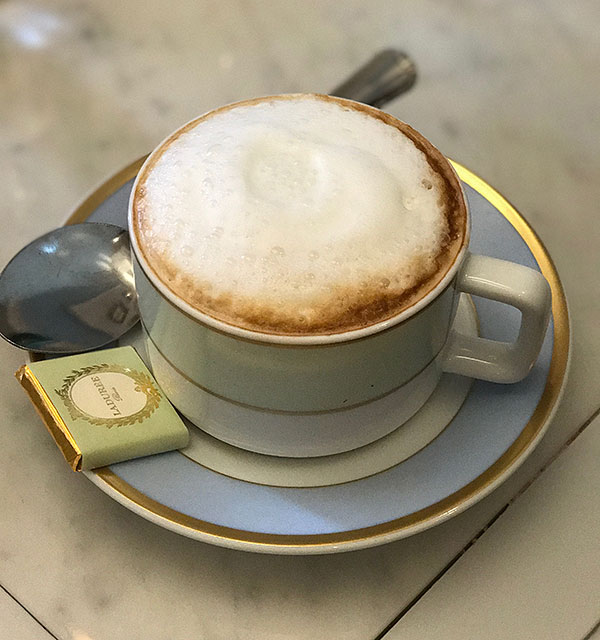 Many small coffee houses are hurting right now due to the shutdown. Whether you buy the Ooh la la! French Roast from the 35° North website or you support the coffee shop down the street from your house, purchasing coffee from a small retailer is a great way to help keep small shops afloat during this tough time.
For dozens of delicious baked goods recipes to enjoy with your morning coffee, order my book Ooh la la! French Inspirations for Entertaining and Travel here, available at a reduced COVID-19 price of just $40 (including shipping).