We have been on many lovely summer picnics; it's one of my favorite ways to eat in the summer. Packing a special meal, finding the perfect location, setting up the area, and enjoying the outdoors and nice weather… what a perfect way to spend an afternoon or evening!
In my book Ooh la la! French Inspirations for Entertaining and Travel (available here), there is an entire chapter dedicated to creating a wonderful summer picnic at Boxwood Gardens. My inspiration was a picnic I had with friends in the gardens of Versailles, where the scenery was spectacular and the food delectable. See the book for the recipes, but here is a winning menu for your next picnic outing:
Pan Bagnat, or "Wet" Bread Sandwich
Lemon Tarragon Deviled Eggs
Summer Tomato Tart
Green Bean, Cherry Tomato, and Olive Salad
Assorted Cheeses & Salamis with Cornichons, Olives, and Nuts
French Pâté
French Yogurt Cake with Strawberries & Chantilly Cream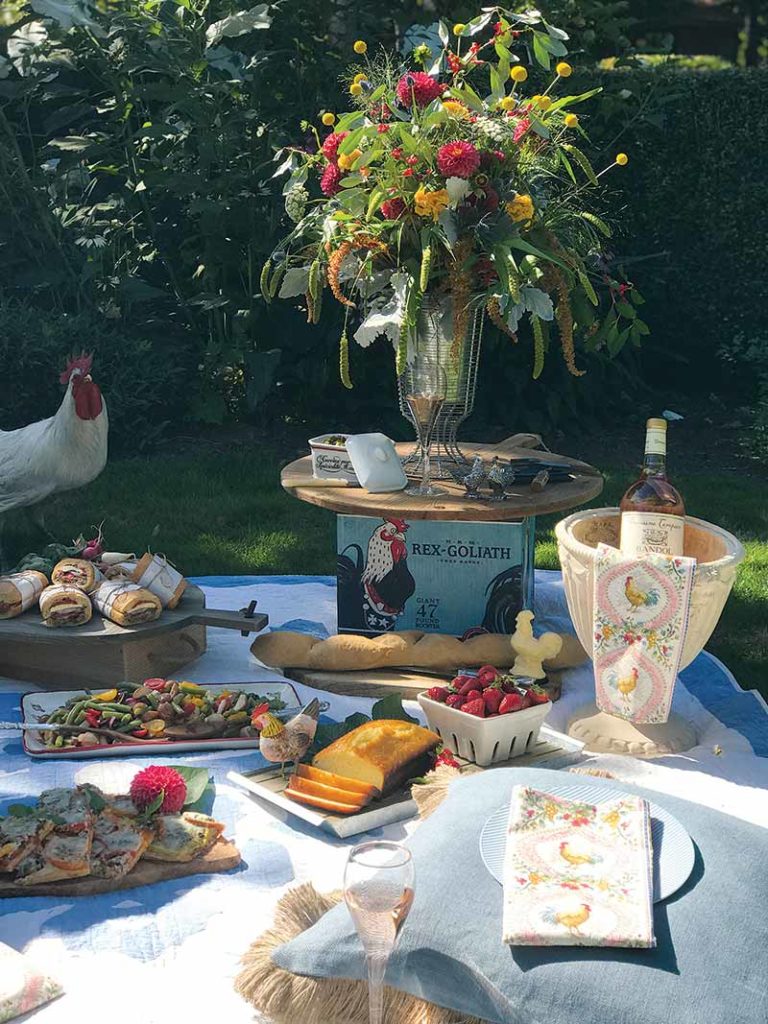 Local parks, natural features like lakes and rivers, even your own backyard can be great settings for picnics. A hike in the hills can lead to a perfect spot for lunch. Don't be afraid to get a little more creative. Try asking a local garden center, winery, or other beautiful location if you can spend a few hours in their space. A farmer's market can be a perfect place to get your provisions.
Also, for a little something different, consider a breakfast picnic: fruit, pastries, mini quiches, and mimosas make for a delightful morning. Ooh la la!