Who doesn't love a fondue night? Sharing this delicious, interactive meal is the perfect atmosphere for laughter and good conversation. I love to have friends or family over for fondue during the cold winter months, and we usually celebrate New Year's Eve with fondue before a champagne toast at midnight.
While cheese fondue is a Swiss tradition (some argue that it's the "Swiss National Dish"), it is eaten and enjoyed in many Alpine nations (France, Italy, Germany) who each put their spin on the traditional recipe. The Swiss use Gruyère cheese and one or two other additions depending on the city or region (Emmenthal, for example). My favorite version of Fondue Savoyarde (from the Savoie region in France) is a 2:1:1 ration of Gruyère (or Beaufort if you can find it), Emmenthal and Comté, along with white wine and kirschwasser. My mouth is watering just thinking about this!
The key to a delicious fondue is to cut one or two garlic cloves in half and rub the cut side around the caquelon (fondue pot). The pot itself is traditionally made from enameled cast-iron, but you will find many different materials available. Rubbing it with the garlicy oil infuses a delicious flavor into whichever cheese mixture you prefer. I tend to cut again and rub the garlic cloves many times, then I throw the pieces into the cheese.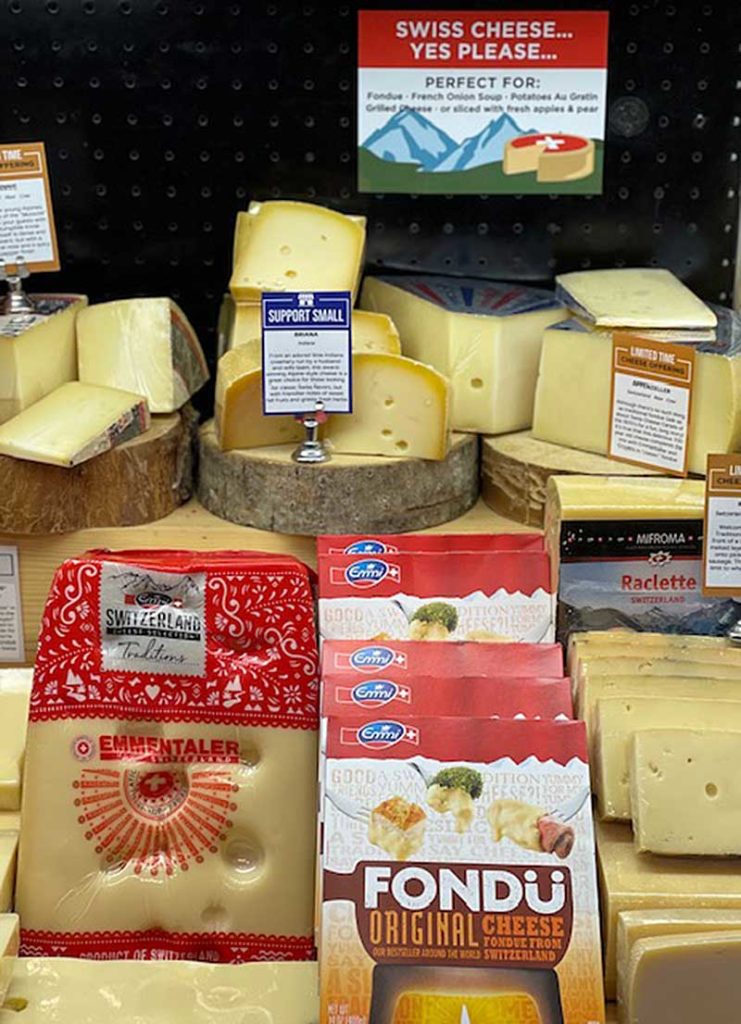 Some people use the long fondue forks to skewer the bread, dunk in the cheese, and eat it right off of the fork. I recommend dipping bread then transferring to your plate and eating it with a different fork. Most important, however: don't drop your bread into the pot of melted cheese! Each region has different "consequences" for this party faux pas, but the French people I know say that you must kiss someone if you lose your bread in the cheese. Ooh la la!
The fondue recipe below is best accompanied by a dry white wine (a vin de Savoie would be most authentic) and a light salad. Bon appétit!
Print
Française Fondue
Ingredients
1

clove

garlic, peeled and cut in half

1

cup

French white wine

I use a wine from Jongieux,Domaine Carrel Eugène et Fils or a Gascony White Wine by Java

6

ounces

Emmental Swiss Cheese, grated

4

ounces

Gruyere Cheese, grated

2

ounces

Comté Cheese, grated

1

tbsp

cornstarch

1

pinch

black pepper, freshly ground

or to taste

1

tbsp

Kirschwasser flavored Brandy or Kirsch
Fondue Dippers
3

cups

French baguette or herb focaccia bread, cubed bite-size

1

apple

sliced into 1/4" wedges

1

pear

sliced into 1/4" wedges

1

Saucisson or Salami, small, cut in 1/4" slices

if the salami diameter is too large cut into quarters

30

cornichons piquants (sweet & spicy)

From Les Trois Petits Cochons or The Three Little Pigs NYC shop (order at shop.3pigs.com)
Instructions
Using the cut side of one of the garlic halves, rub the sides and bottom of a medium sauce pan. (If you want more garlic flavor leave the garlic in the pan). Add the wine and bring to a simmer over medium heat.

While the wine is heating, grate the cheeses in your food processer and place them in a medium mixing bowl, add the cornstarch and toss to coat the cheeses.

When the wine has come to a low simmer, turn heat down to medium low and start adding the cheeses a handful at a time. Stir constantly in a figure 8 motion with a wooden spoon, adding the next handful after the last handful of cheese has melted.  Continue until all cheese has melted. Don't rush the process; this will cause the cheeses to separate.

When cheeses are totally melted, add the nutmeg, pepper, and Kirschwasser, and stir to combine. Transfer the fondue to the fondue pot.

Remember to watch the source of heat under your fondue pot. If the bottom gets too hot it can burn.
For more delicious recipes, see my book Ooh la la! French Inspirations for Entertaining and Travel, available here and on Amazon.com.