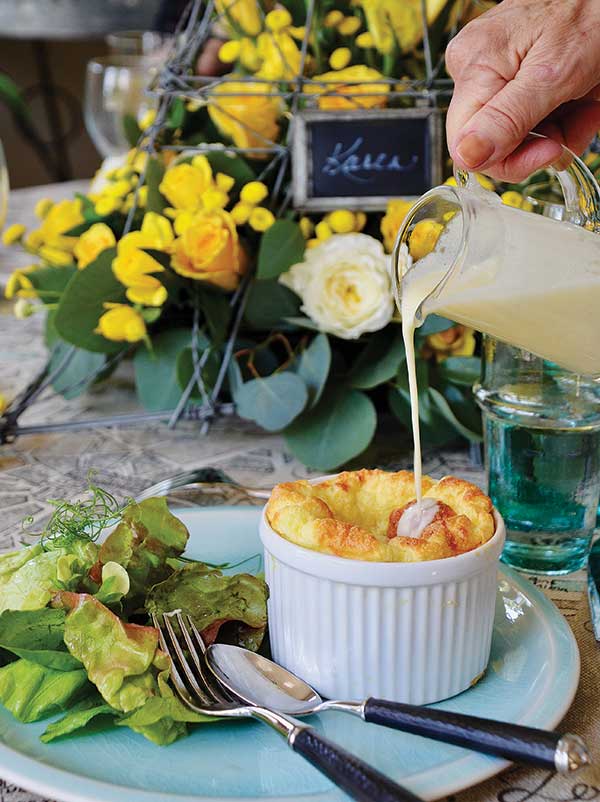 Soufflés are not scary! These light, pillowy egg wonders are easy to make and a great way to impress your guests. Whether savory or sweet (or both!), soufflés are a perfect breakfast, lunch, or dinner centerpiece, and they are delicious!
My very first soufflé (raspberry) was made in an apartment kitchen while I was in college. I didn't have fancy soufflé dishes, so I used two straight-sided Pyrex containers. I followed the instructions to a T, and they turned out perfectly. My second soufflé was for a crowd of 10, and I decided to do it in one of my mom's giant serving bowls rather than two large soufflé dishes or 10 small ramekins. There was far too much mixture in the container, and it puffed up so much it looked like an enormous brown mushroom, slightly hanging over the edges in a round dome. It nearly touched the roof of the oven! Ooh la la! It was really tasty, but I learned not to overfill my soufflé dishes.
Soufflés are good for an intimate dinner for two, a cozy meal among friends, or for a ladies' lunch. In my book Ooh la la! French Inspirations for Entertaining and Travel, I highlight my Paris is Always a Good Idea themed girlfriend luncheon featuring cheese soufflés with a cheese sauce.
In these chilly winter days, making a soufflé for your evening meal is a warm and tasty surprise.
For more great recipes and more, purchase my book Ooh la la! French Inspirations for Entertaining and Travel, available on Amazon, Etsy, and my website, www.oohlala-frenchinspirations.com.