Creamy, smooth, maybe sweet, maybe salty… French Butter is the best!
Most French butter is made in the regions of Normandy and Brittany. Not unlike the two regions' rivalries about cider making or who "owns" Mont-Saint-Michel, each claims to make the best butter in France. They both produce excellent sweet cream and salted butters; I can't "vote" for one over the other! All I know is that it's worth the extra cost to purchase French butter, which is richer, creamier, and more flavorful than our standard American butter. Your cooking will taste better with French beurre!
So, why is French butter so much "better" than American butter? One reason is that European butter standards require a higher butterfat content. French butter is cultured (like yogurt), so it has a deeper flavor profile, almost tangy but not quite. The churning process is slightly different than here in the US, resulting in a creamier consistency. Many butter producers insist on exclusively grass-fed cows, which contributes to the richness in flavor and the deeper yellow color (this is natural, they do not add coloring). Also, most French butter comes wrapped in a kind of foil which preserves its flavor (and does not let in other fridge odors) like paper-wrapped butter sticks.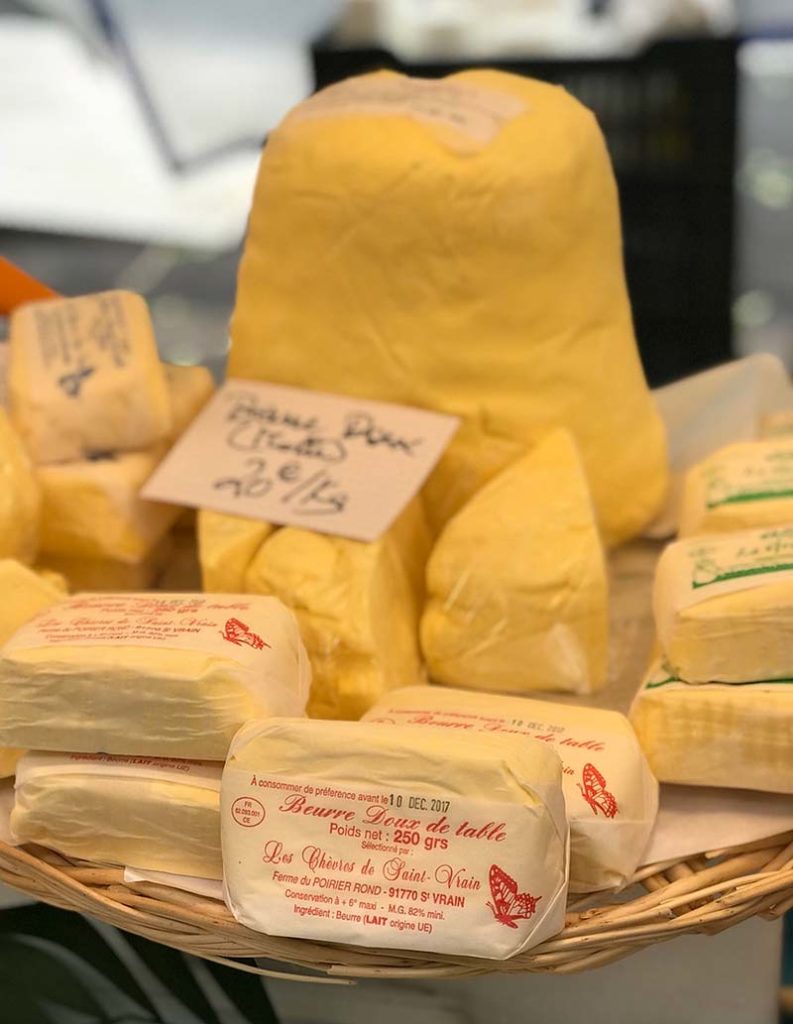 You can find French sweet cream butter, salted butter, and butter with rock salt in it. Each butter serves a specific purpose: unsalted for most baking and cooking, salted for some savory dishes and spreading on bread. Many French butters such as Beurre d'Isigny and Échiré are AOC, meaning the name, process, and place of origin are protected to preserve the integrity of the product. This is why you can't technically call sparklin wine champagne unless it comes from the Champagne region of France.
You can get creative with the butter you serve on your table by pressing it into a mold. We have done shaped butters for many special occasions: the Eiffel Tower for a girlfriend's luncheon, a rooster for a Bastille Day party, and a Christmas Tree for Christmas dinner (we used to do Santa, but the kids didn't want to chop off Santa's buttery head!).
For more tips on French cooking, recipes, and party ideas, see my book Ooh la la! French Inspirations for Entertaining and Travel, available here. This makes a great gift!