Claude Monet is probably the most renowned impressionist painter; no doubt images of water lilies and a green bridge across a pond come to your mind. This scene exists at his home at Giverny, 50 miles northwest of Paris. It is one of my favorite day trips when I travel to France.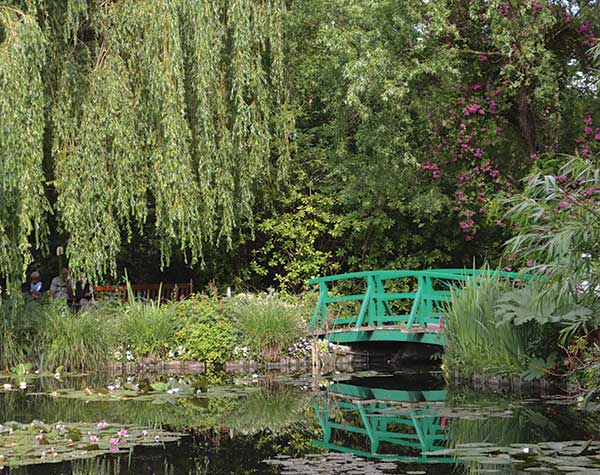 The water lilies in the pond are just as they appear in his paintings. All who visit can wait their turn for that quintessential photo on the green Japanese bridge. Be sure to stay on the path! I attempted a photo from a creative angle, placing my foot on a brick lining a flowerbed, and was admonished by the gardeners. Ooh la la!
I've been to Giverny many times in the spring, summer, and fall. It's both beautiful and very different in each season. I must confess, though, that spring is my preferred time to visit. Flowers of every color fill the grounds, radiating joy in light pastels, deep reds, oranges, and a perfect pink that matches the color of his ivy-covered house.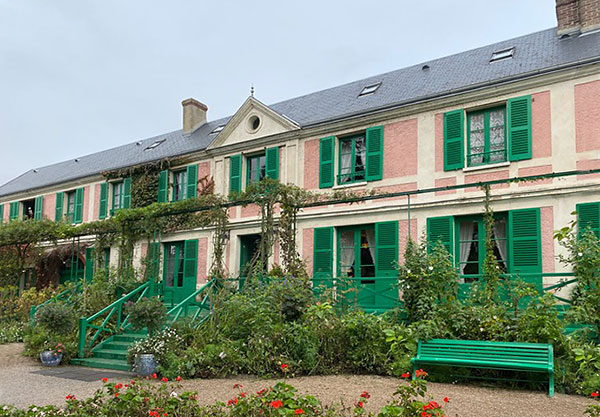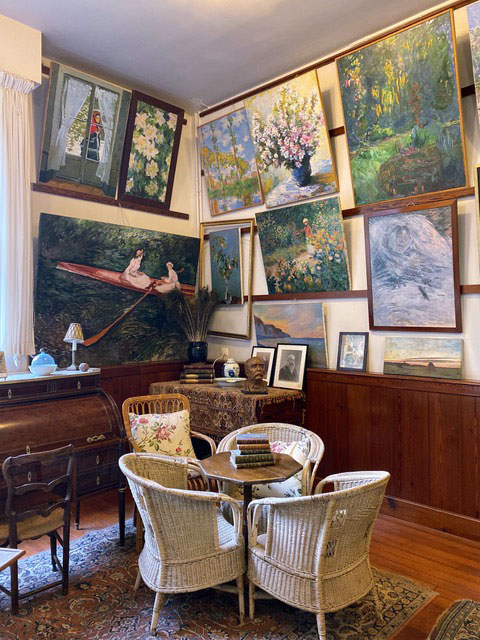 Monet's gardens are not the only attraction. Touring his house is just as fun! With bright pink stucco and contrasting green shutters on the outside, each room has a different color and personality on the inside. The kitchen is blue and white with shining copper pots lining the walls. A chef's dream! The dining room is painted a cheery yellow with matching armoire, table, and chairs. The main parlor is filled floor-to-ceiling with art, and you will find art on the walls of every room. I was surprised to see how much Japanese art is displayed; Monet was clearly an aficionado.
For a day trip to Monet's gardens, take the train from the Paris Saint-Lazare station to Vernon, then the bus to Giverny. I recommend having lunch in the town of Vernon, perhaps at the museum café. You can pack a picnic, but you won't be able to bring bags, suitcases, or picnic items into the grounds of Giverny, so plan accordingly. On one occasion my girlfriends and our granddaughters had a private painting class after the gardens closed. We were able to enjoy the serenity of the garden like Claude Monet would have experienced. This has become a treasured memory!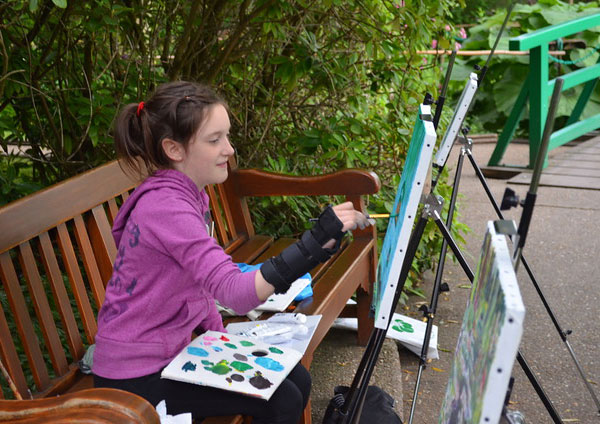 For more travel tips and stories, as well as many wonderful recipes, read my book Ooh la la! French Inspirations for Entertaining and Travel, available online at a special reduced price of $40 (includes shipping) during the nationwide quarantine. This makes a great gift!