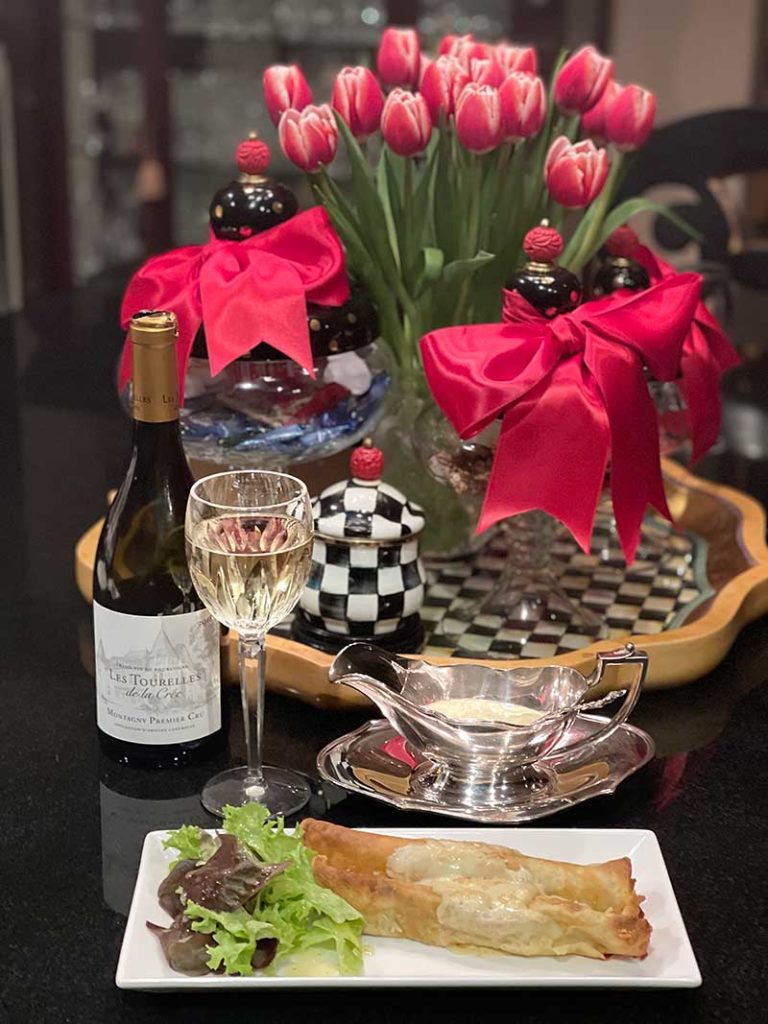 February 2 is National Crêpe Day or La Fête de la Chandeleur in France and officially marks the end of the holiday season. What a great excuse for making crêpes!
Originally crêpes came from Brittany but now can be found anywhere in France. The term crêpe refers to the sweet version, which is made with white flour and has delicious fillings like salted caramel, chocolate, lemon and sugar, or jam. Savory crêpes are actually called galettes and are made with buckwheat flour. The standard galette order in a restaurant is a complète, meaning filled with Swiss cheese, ham, and a fried egg on top. The four rounded "sides" are folded in to form a square on the plate with the middle revealing the runny egg yolk. Ooh la la!
The French eat crêpes for dessert rather than breakfast (like French toast!), but I won't stop you for making them first thing in the morning!
Print
Galettes au poulet, champignons, prosciutto et à la sauce au fromage
Chicken, mushroom, & prosciutto galettes with cheese sauce
Ingredients
Crêpe batter (makes a dozen 8" crêpes)
1¼

cups

whole milk

¼

cup

water

3

eggs

3

tbsp

unsalted French butter, melted

1½

cups

all-purpose flour, sifted

¼

tsp

fine French sea salt
Filling
2

slices

bacon, cut in ½" pieces

¼

cup

prosciutto, sliced thin and cut into ¼" x 2" strips

1½

chicken breasts, ½" cubed

¾

tsp

fresh thyme, chopped fine

1

pinch

coarse French sea salt

1

pinch

freshly ground black pepper

1

cup

cremini mushrooms, sliced

4

green onions, cut in ⅛" slices

3

tbsp

butter
Cheese sauce
4

tbsp

French unsalted butter

4

tbsp

all-purpose flour

1½

cups

whole milk

½

cup

heavy cream

1

tsp

Dijon mustard

¼

cup

Emmenthal (Swiss) cheese

¼

cup

Parmesan cheese
Instructions
Crêpe batter
Place milk, water, and eggs in your stand mixer and combine until smooth. Add melted butter slowly, and mix until combined. On medium-low speed, add salt and gradually add the flour to the mixture until combined. Scrape the sides of the bowl and continue blending until smooth on medium speed. Let batter rest for 2 hours before using. If you wish a more delicate crêpe, use ¾ cup whole milk and ¾ cup water.

While crêpe batter is resting make the filling.
Filling
In a sauté pan (DON'T USE NON-STICK), cook the bacon on medium heat until ¾ cooked and add the prosciutto slices and cook until all are crispy. Remove the bacon/prosciutto from the pan and set aside. 

Add the chicken to the pan and let sit for approximately 1 minute or starting to turn brown, add the thyme, salt and pepper. Keep turning the chicken until all sides are lightly brown (should take approximately 3-5 minutes). When chicken is cut in half and is slightly pink, remove from pan and place on top of the bacon/prosciutto mixture.

Next melt the butter in the pan. Add the mushrooms and green onions and sauté until mushroom are soft. Add the chicken/bacon/prosciutto mixture back into the sauté pan and combine. Empty filling back into bowl and set aside.
Crêpes
Use a non-stick 8"pan. Pour ⅓ cup of batter into the hot pan and roll the pan around to make the batter flatten into a 8" circle. It is normal to have some drip marks; it is more important to have a thin crêpe than a perfectly circular one. Place pan back on heat until the edges beginto curl up and the tiny bubbles in the batter become holes. I use my fingers grab the curled edge to turn the crêpe over on the other side. It should just be turning a light brown. Cook the bottom of the crêpe a little longer until it just starts to turn brown. 

Remove and place on parchment paper lined plate. Place a piece of parchment paper between each crêpe so they don't stick together. Stir the batter with your measuring cup in between each crêpe.

Crêpes can be made 2 days ahead and stored in the refrigerator.
Cheese sauce
When the crêpes are finished, make the cheese sauce. In a medium sauce pan, melt the butter. Stirring constantly gradually add the flour, then gradually add the milk and cream. Stir in remaining ingredients and continue stirring until thickened. 
Plating
Add ½ cup or more, if needed, of the cheese sauce to the filling mixture and combine. I know the French make their savory crêpes or galettes folded but I love the presentation of rolling them. You can decide which way you wish to make them. 

To roll them, lay out 8 crêpes on parchment paper on your counter and divide the filling equally down the middle of each crêpe in a straight line. Take one edge of the circle and tuck around the filling and roll it up. Place in rectangular baking dish with the edge of crêpe down, place side-by-side in the baking dish. When finished ladle the cheese sauce down the middle of the crêpes and sprinkle the tops with the remaining Parmesan cheese. Place in oven for 10-15 minutes to warm the crêpes. The cheese sauce should be starting to bubble, so check often after 10 minutes so your crêpes don't burn.

Place 2 crêpes on each plate and serve with salad greens tossed with vinaigrette.
Notes
Filled crêpes can be frozen or stored in the refrigerator in air tight container for 2 days. Bring to room temperature before baking.

You will have 4 crêpes left over to make a sweet crêpe with a filling of your choice (salted caramel, chocolate, Nutella, lemon and sugar, or jam). These you will reheat one at a time by placing it in the microwave covered with a damp paper towel and heat for 20-30 seconds, then with the best side down, spread your filling over the crêpe (leaving ½" from edge), fold in half and fold in half again to make a triangle. In France at the crêpe stand they put the filling only on half as shown in the photo below. This was my granddaughter's first French crêpe in Paris. Ooh la la!
For more celebratory meal ideas, including a girlfriend lunch, summer picnics, and traditional French Christmas recipes, see my book Ooh la la! French inspirations for Entertaining and Travel, available here, on Amazon, and signed copies on Etsy.