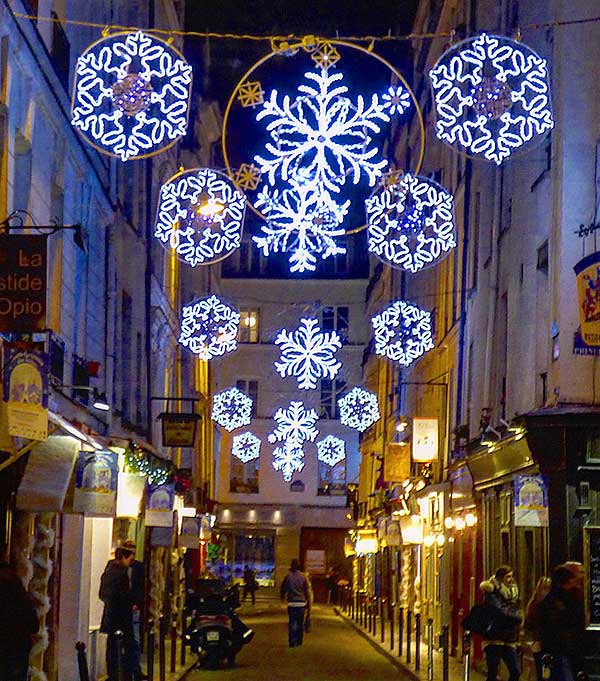 Paris is especially lovely around Christmas and New Year's. The trees along the Champs-Élysées are lit with twinkle lights. The big department stores have lacey lights on every surface of each building, the insides of the stores have beautiful oversized decorations, and the window displays are a sight to see. Galleries Lafayette and Printemps, the two largest department stores in Paris, are rivals each year, competing for who has the better window displays, which often have animated puppets and music. Roasted chestnuts and mulled wine from street vendors add to the magic of the winter season. A spectacular fireworks display by the illuminated Eiffel Tower at midnight on New Year's Eve is a highlight.  Ooh la la!
The French send Happy New Year cards rather than Christmas cards, and they are mailed in the month of January. French artist Marie-Anne Foucart creates whimsical New Year's cards (as shown above).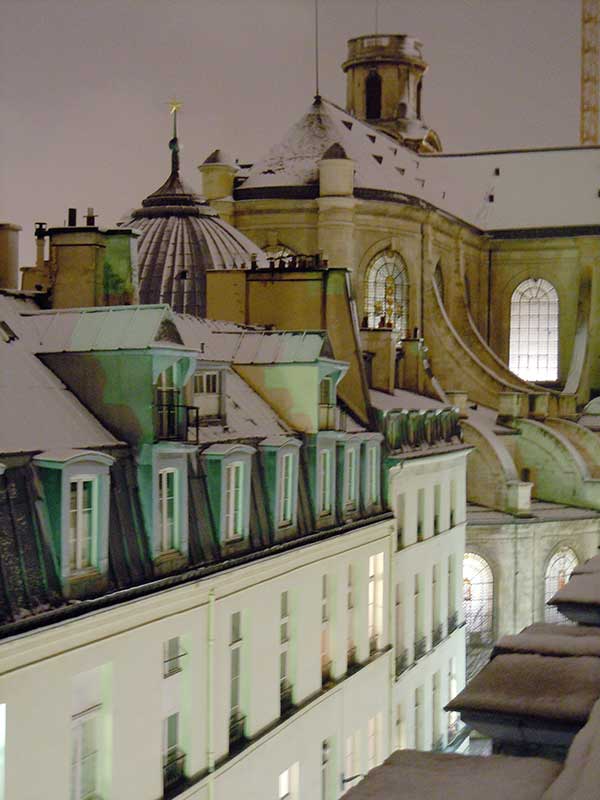 I have only been to Paris one time in the middle of winter, and it snowed! I was out around town when the taxi cabs stopped driving and the Métro closed, and I had to walk back to my hotel in the snow. As I remember, it took three hours. A valuable lesson learned: Always have a plasticized map so you can find your way in a large city (in case it snows or rains). My map disintegrated that afternoon, but with my little bit of French and a lot of very nice people helping me, I made it back to my hotel safely, and soaked!
For more travel tips as well as winter decoration and recipe ideas, see my book Ooh La La! French Inspirations for Entertainment and Travel.