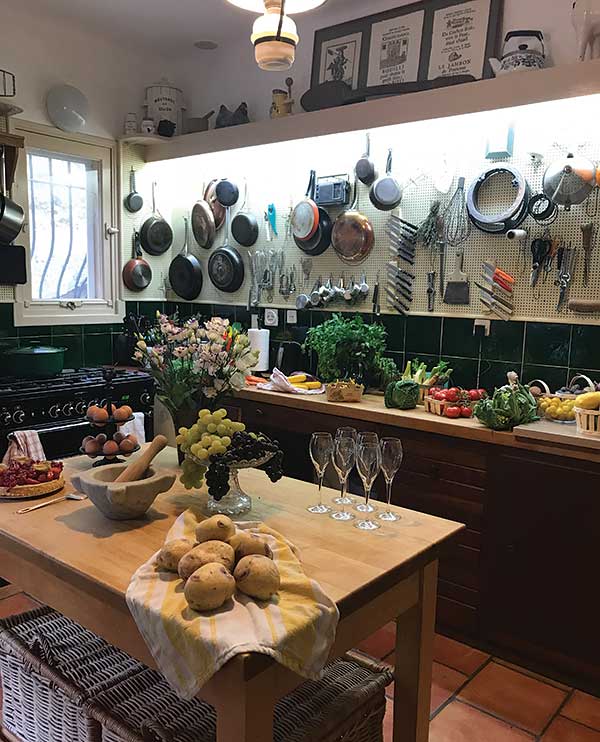 Julia Child's beloved Provençal home, La Pitchoune, is now the successful La Peetch Courageous Cooking School created by Makenna Held. Located just 35 minutes from the Nice Côte d'Azur Airport, you'll enjoy this scenic drive from the city to the countryside; your final destination is a quaint Provence-style stucco cottage at the top of the hill. Makenna typically hosts 6 guests for 5 days and nights of cooking, entertaining, laughing, and sharing great French wine. Read more about this delightful experience in my book Ooh la la! French Inspirations for Entertaining and Travel. Makenna's cooking holiday was an experience of a lifetime for me, and I hope you can schedule this on your next trip to France… Which, under current circumstances, might be a while.
Instead of waiting months or years to experience the charm and enthusiasm of Makenna's cooking school, why not join her online Singin' for Supper Quarantine Show? It's a Zoom meeting uniting friends and strangers worldwide, with live music by Chris Nylund of Okay, Perfect and charm straight from the South of France. Join online on Thursday, April 2, 2020 at 6pm France time, noon US East Coast time, and 9am Pacific time. Make some coffee or pour a glass of wine! Ooh la la!
Check out the event on Facebook or visit her website.
Click here to purchase my book Ooh la la! French Inspirations for Entertaining and Travel at its special COVID-19 price of $40 (includes shipping). This makes a great gift for anyone cooped up in a house!