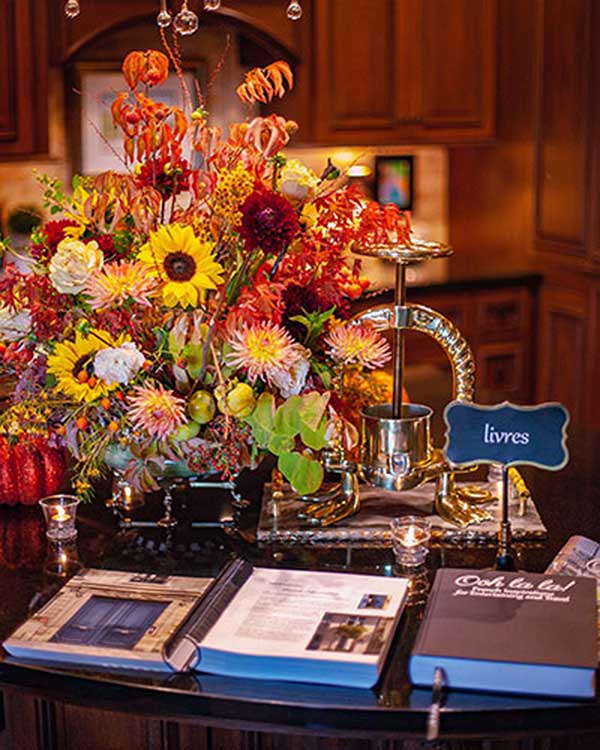 It's done! After ten years of hard work, I have sent Ooh la la! French Inspirations for Entertaining and Travel to the printer. The finished copies should arrive in late December, just in time for the holidays. Get your copy here, ooh la la!
For now, it's time to celebrate! This weekend was the book's preview party, a gathering for my friends and family who have supported me through this journey, and a chance to pre-order the cookbook. We received a mock version of my book from the publisher, and I was thrilled with the way it looked. The nice, thick pages turn easily, and the quality printing shows the brilliant colors of the photographs. I can't wait for it to arrive, and I hope you will order one for yourself and one for your favorite foodie or Francophile!
My best friends, Terre and Susannah, and I were busy for days cooking recipes from the book to get ready for the party: French Antipasti and Pâté, Provençal Crudités served with Grand Aïoli, Olive Cookies from the Drôme, Orange & Current Sablés stamped with "OOH LA LA!," and a fabulous cheese & charcuterie board as well as wine and champagne flowing! My florist, Viesia of GreenGable Gardens, created beautiful fall colored flower arrangements, full of dahlias, sunflowers, maple leaves, persimmons, hydrangeas, roses, and rose hips. They were perfect! Smaller arrangements were placed in pumpkins in lieu of vases, which is a great way to celebrate the season.
The front entry garden was a vision of green boxwood and white twinkle lights. Red and orange mums burst from pots placed next to ornamental cabbages and stacks of pumpkins. The back garden gave guests two areas in which to congregate: the patio with the fire pit, French fountain with goldfish, all the food, wine, and champagne; and the black-and-white-striped pavilion tent with an iron and crystal chandelier adding a sparkle to the surrounding boxwoods and topiaries for a quieter space. A few deer even made a special appearance!
The early evening weather held out, and a lovely autumn temperature with stunning view of the golf course and Coast Range Mountains created the perfect party scene. Guests mingled, ate and drank, and many mutual friends were discovered. As the sun set and the temperature dropped, we took our wine glasses inside and congregated in the kitchen. We were exhausted, but we agreed a good time was had by all!
Click here to preview the cookbook Ooh la la! French Insprations for Entertaining and Travel.