There's nothing like walking into a bakery and smelling the fresh pastries. Just the thought of a croissant's buttery flakiness makes my mouth water! This is the exact experience you will have upon entering Le Pâtissier in Corvallis, Oregon.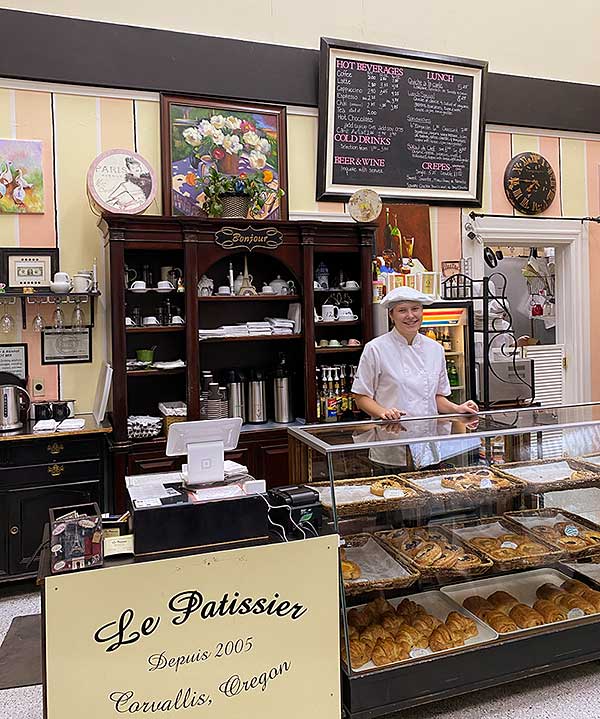 Le Pâtissier (pronounced pa-tee-see-ay) actually means "the pastry chef," which is slightly different from the word for both "pastry" and "pastry shop" ("pâtisserie," pronounced pa-tee-ser-ee). The pastry chef here, Didier Tholognat, is French, and, luckily for me, now lives in Oregon. Didier is a master of French pâtisserie: fruit tartlets, éclairs, swan cream puffs, miniature chocolate ganache cakes, and the essential pain au chocolat (chocolate croissant), which is traditionally a rectangular shape. Didier has also created some of his very own signature treats, including a ham, cheese, and jalepeño croissant, a savory-lover's dream! You can find cream cheese Danishes with seasonal fruit fillings (rhubarb in the spring, cherry in the early summer, blackberry in the late summer, and blueberry all year).
They do a swift business at Le Pâtissier, and it's not unusual for them to run out of pastries before they close at 3 p.m. Didier and his wife Trinidad, originally from Peru, arrive each day around 2 in the morning to prepare the dough and make sure there are enough delicious pastries for their customers by the time the doors open at 7:00.
Didier and Trinidad have a passion for their craft, and their love of pastry and France shines through their baked goods as well as their café's ambiance. Trinidad is an artist, and her beautiful French-inspired paintings adorn the walls of the pastry shop. French music softly plays in the background while you order and devour your goodies. The glass pastry cases are filled with edible works of art, and it's hard to decide on which ONE you will try!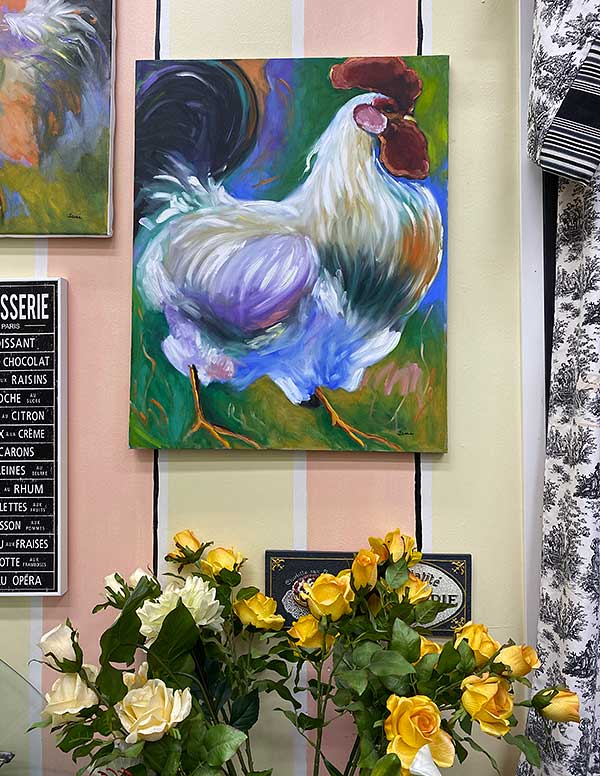 This is the perfect place to meet a friend for a chat, celebrate a birthday, enjoy a delicious meal, and run into local French people. Most towns have a small population of French men and women; Corvallis has a thriving communauté française. There are even weekly conversation groups you can join to practice your own French! Ooh la la! For more information on Le Pâtissier, visit their website or visit them in person at 956 NW Circle Boulevard in Corvallis, Oregon. See their profile on page 244 of my new cookbook, Ooh la la! French Inspirations for Entertaining and Travel, which they stock for your conveniece to buy your own copy.