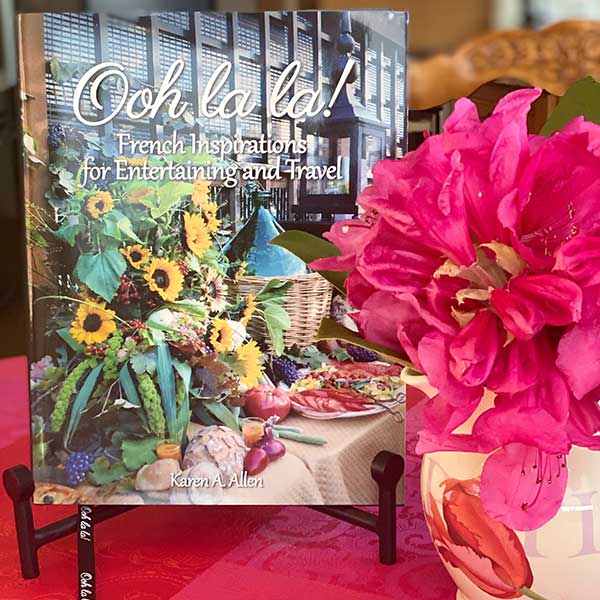 My book Ooh la la! French Inspirations for Entertaining and Travel is about recreating your French memories at home. During this time of quarantine, my book provides you with many ideas to imagine you are spending your day in your favorite part of France.
It's easy to bring your travel memories home…let me help you!
Le Petit-Déjeuner (Breakfast)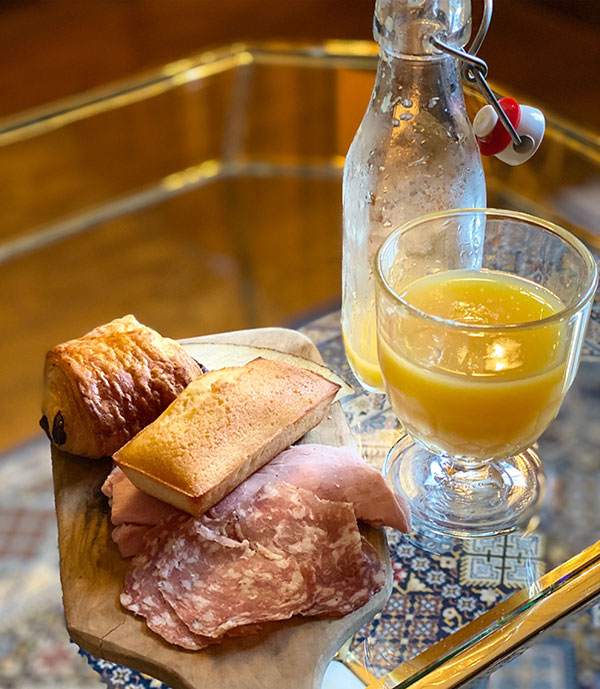 Start off in style with a breakfast of French-inspired pastries. These could be croissants purchased from your local market, or you could try making a recipe from my new book: Raspberry Financiers, Pistachio Loaf, Chocolate Chunk French Bread served with Eiffel Tower-shaped butter… Ooh la la!
Enjoy your treats with a delicious espresso made from Ooh la la! French Roast coffee, which you can order from 35 Degrees North Coffee Shop, or pick up a cup of café through your local drive thru. The fun French café scene on the package was created by artist Mindy Carpenter who sells French-inspired greeting cards, fancy envelopes, and original paintings on her website.
If you are a tea drinker, order fabulous French teas, made by Mariage Frères in Paris, from Watson Kennedy in Seattle. My favorite of their teas is Wedding Imperial, with hints of chocolate and caramel. They have many other wonderful treats, so enjoy virtual shopping.
After breakfast take a long stroll around your neighborhood or nearby park, but remember to stay 6 feet apart and wear your mask!
Déjeuner (Lunch)
Often starting around 1:00 pm, le déjeuner is the main meal of the day for most French people, but you can choose how big you want this French lunch to be. Try a quick and light meal with my recipe for Fig and Blue Cheese Tartines with Prosciutto, Truffle Honey and Microgreens. A more filling option is a South-of-France-style Pan Bagnat ("wet" bread sandwich), a Summer Tomato Tart, or a Provençal Pizza (Pissaladière) served with a light salad. Find these easy and delicious recipes in my book.
After lunch, download a French novel (anything by Marcel Pagnol will give you a look back on Provence in the early 1900s) and spend the afternoon reading and dreaming of La Belle France. Looking through your own French holiday photographs is another fun way to pass an afternoon, recalling fond memories and funny stories. Go to your local garden nursery and shop for a boxwood topiary or other plant that reminds you of France to plant in your garden. You could also plant a French herbs in a container garden and label their French names on the plant stakes.
Le Goûter (Snack)
The French sometimes have a light afternoon snack around 4:00 pm. Enjoy a cup of café or tea along with a small treat, like Jean-Luc Poujauran's recipe for Sablés à l'Orange et Raisins Secs (Orange and Raisin Cookies). These are delicious, and it's a very easy recipe to make (see my book). While you are relaxing, read about my French adventures, places to shop, travel tips, and more… a little daydreaming is good for the soul!
L'Apéro (Pre-Dinner Drink)
What would a "Day in France" be without l'apéritif?! This French tradition of a drink before dinner, accompanied by small bowls with light snack foods (nuts, chips, crudités), whets your palate for the meal ahead. There are lots of delicious cocktail recipes in my book, like Provençal Pear Side Cars or summery Lemon Spritzers served along with savory Gougères (French Cheese Puffs- heaven!). While the "drink" in question is usually cocktail or a glass of wine, you can certainly choose something non-alcoholic. Put on some background music (classic Edith Piaf or more modern Tryo) and linger over the "apéro" as long as you like.
Le Dîner (Evening Meal)
This is where the stereotype of the long, multi-course meal was born. A French dinner (or lunchtime feast) could be anywhere from 2 – 6 courses, normally beginning with "l'entrée," what we would call a starter or appetizer. It's literally the "entry" to your meal, though at fancy dinners or restaurants your soup would be served first. After the "entrée" you would be served the "plat principal" (main dish and any sides), followed by "la salade verte" (green salad), le fromage (cheese course), and finally, "le dessert." Choose as many or as few of these courses as you like depending on your mood and hunger level. You have plenty of time, so have fun!
For a light dinner, try my Cheese Soufflé with Creamy Cheese Sauce served alongside Mixed Salad with Classic French Vinaigrette. This lovely vinaigrette recipe came from the Courageous Cooking School located in Julia Child's former summer home in the South of France. For heartier fare, prepare one of these oh-so-French main dishes from my book: Duck Breast with Orange Syrup; Roast Chicken with Green Beans; Lobster with Wine, Tomatoes, Garlic and Herbs; or Herbed Salmon with Artichoke Cream Sauce to name just a few. Serve small portions so you have room to make it through the rest of the dinner.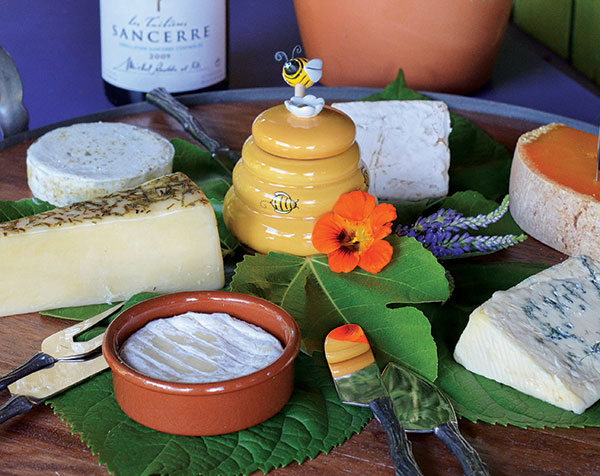 Bread is served throughout the meal in France, and it is placed directly on the table (NOT on the plate!). A tray of 2-4 French cheeses will be a perfect way to follow whichever main dish you serve. Cheese should be left out at room temperature for at least an hour or two before serving; do not serve cold directly from the fridge. Creamy, soft cheeses like Chèvre (goat's cheese), Délices de Bourgogne (triple cream) or Brie de Meaux are often popular (though for something more pungent, try Camembert), along with firmer Mimolette, Gruyère or Comté. Be sure to cut the cheese to keep its original shape as best you can; cutting off the tip of the Brie is considered uncouth.
French desserts like Lemon Tart or Pear-Frangipane Tart are a sweet and refreshing way to end your meal. For something more flashy and exotic, try my recipe for the Garden Serpent Cake, which is like biscotti, and is not only delicious but whimsical! Follow dinner with a glass of port Toulouse-Lautrec style. Remember to play French music in the background!
After dinner, watch a favorite French movie like Amélie, or a movie set in France like A Good Year, which inspired the home movie night chapter in my book. If you have one of those Eiffel Towers that light up or even sparkle, turn it on every hour and dream of the City of Lights. My grandsons love this!
Amusez-vous bien!
Karen