I am so humbled by the many notes of thanks and praise for Ooh la la! that have come my way. Writing and publishing this book was a huge effort, and the goal was that people love it, read it, and use it. Thank you so much to those of you who have sent me kind words. I am so glad you love the stories, the recipes, and the photographs in the book! Merci beaucoup!
Fondly, Karen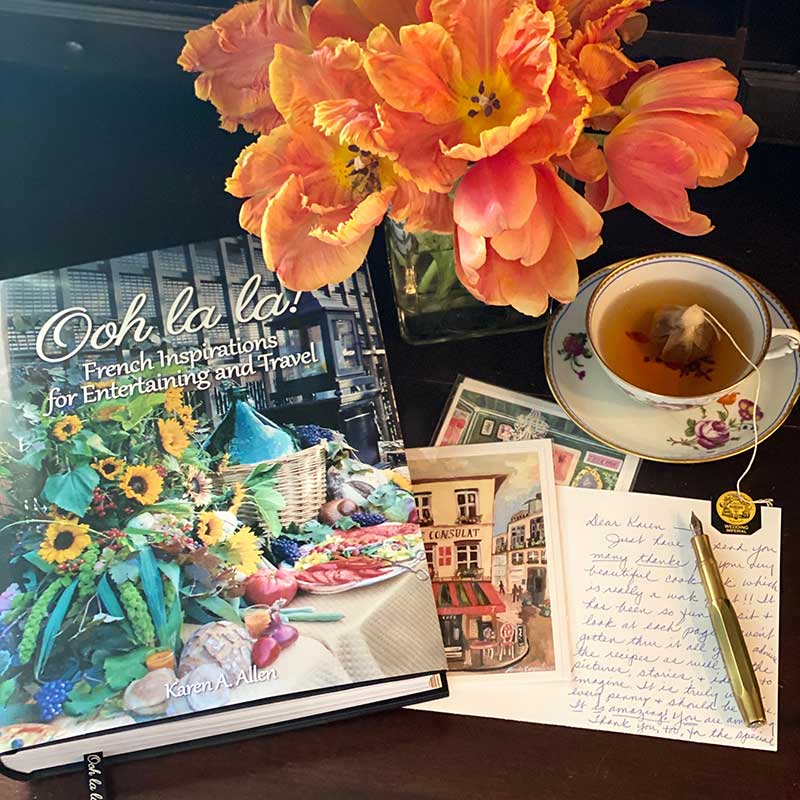 "Ooh la la! French Inspirations for Entertaining and Travel is a huge book with beautiful photos of France and French cooking, valuable information on French customs, etiquette and style, and many, many recipes for mouthwatering French meals. It is, just as the title suggests, crammed with inspirations for anyone who love France and French food. I cannot begin to describe the amount of work, and creativity which Karen Allen has put into this book to make it such a treat for any Francophile.
The Photos…the recipes…the beautiful and careful selection of fonts and colors in the typography…it is a marvel and should be on the shelf and/or coffee table or in the kitchen of any home where French culture and cooking are valued. The book is astonishing labor of love which deserves the widest possible exposure. It strikes a rare balance of really useful information and beautiful, fun presentation and illustration."
— D. Phillips (parisianmoments.com)
"We received your beautiful book today. It is impressive. You are a natural born writer and photographer. What a joy it will be to read."
— J. Jaremko
"I received your beautiful cookbook today and I'm looking forward to trying some new recipes & looking through the cookbook to dream of France!"
— S. Leonard
"It is a real treasure."
— N. Siegal
"What a magnificent work you have created with the publication of Ooh la la! I knew you had been working on it, but had no idea that you were creating such an extensive rendering of French style and culinary taste. Congratulations!"
— M. Fox
"I love the book!"
— T. Crawley
"Your book is awesome and thank you for dedicating it to my sweet sister, Linda Lou!"
— R. Cooper
"I just wanted you to share that everyone (Gourmet Club) was impressed with the book and photos. I love the bookmark and the black and white stripe interior. Everyone is looking forward to reading it, and since I have started, I can say I am enjoying your stories. It just very well done."
— B. Edwards
"Thanks again for a great book. Both of us have spent time looking at it and not only does it have great recipes, we are finding photos and stories related to places that we have been in France."
— Anon
"A huge congratulations to you on your accomplishment."
— K. Leonard
"I thought she did a wonderful job for her first cookbook – I know it was a labor of love, and given her attention to detail with her interior design work, I wasn't entirely surprised of what a beautiful job she did with it."
— L. Sprick
"From the bottom of my heart, thank you for this incredibly beautiful cookbook. I love EVERYTHING about it. This is what a cookbook should be like: lots of pictures, ambiance in every page, authentic and colorful recipes. I just want to dive into each page. This will be my reading for the next many weeks."
— S. Fullerton
"A labor of love. It will be particularly special to our family because of the dedication to our mama – thank you for that."
— G. Schudel
"It is a smashing and beautiful book – can't wait to enjoy every page! Congratulations!!"
— Anon
"I was stunned when I was handed you're amazing creation, Ooh la la! It is simply magnificent, and I will spend many wonderful hours devouring the pictures, words, and hopefully the fabulous recipes."
— J. Phipps
"Thank you so much for writing a wonderful book. What a brilliant idea for the structure of it, so clever! Your husband says: It's all about the dishes, I say: It's all about your Friendships. One has warm feelings reading about all the people you've met, travelled with, and had good times with. What a wonderful, uplifting, and yummy story. Ooh la la!
"Now that I have more time I made: Chicken baked on rice -omg I didn't know chicken fat can taste so good! Pear Frangipane tart – I cheated and used canned pears – still worked and delicious, half the work. Cherry tomatoes dipped in vodka – delicious and another excuse for drinking!"
— V. Balint
"Just have to send you many thanks for your very beautiful cookbook which is really a work of art!! It has been fun to sit & look at each page (haven't gotten thru it all yet) & admire the recipes as well as the pictures, stories & ideas to imagine. It is truly worth every penny & should be more. It is amazing!"
— M. Brauti
"We made the Hot-Dog au Homard and the Pain a la Pistache – they were delicious!"
— M. Works
"It's smashing and beautiful book – can't wait to enjoy every page! Congratulations!
— B. Myers
"Your book is so beautiful. Linda would be so happy and proud of your accomplishments!"
— C. Nunn
"I spent last weekend enjoying your book, with its beautiful photographs and lovely and interesting narration. It's obvious that you have spent much time and effort creating it, and that it is entirely a labor of love. I appreciate and admire the style and elegance that you and your girlfriends bring to your luncheons, which is reflected in this gorgeous book. I congratulate you on your success in creating it, in bringing your dream and passion for life – and especially, to completion! The joys and pleasures you have experienced and shared here were matched by your hard work and determination, and deserve praise, which I offer you in abundance. Bravo!"
— M. Morse
"I cannot remember a time when my gift – your book – was received with so much appreciation. The phone calls and texts have been unbelievable!! Everybody has LOVED it! And the feel so special that you wrote an inscription to them personally. Cannot thank you enough for being so kind to me and all my friends."
— M. Pickett